Advertising
Ads also appear in the CPPC newsletter. Ads for Plymouth-related products and services are free irrespective of club membership, although donations are welcomed to help us offset the related expenses. We may edit your ad to fit, or refuse to run it, at our discretion. Email us at this link for more information.
---
Looking for 1956 Plymouth 12-volt starter for my '55 which was converted at some point in its history. I would like to find one which can be rebuilt. Arnold Landvoigt, home phone 301/498-0070. I'm on East Coast time, but my daughter is in West Linn and will pick the starter up and hold it for me.
---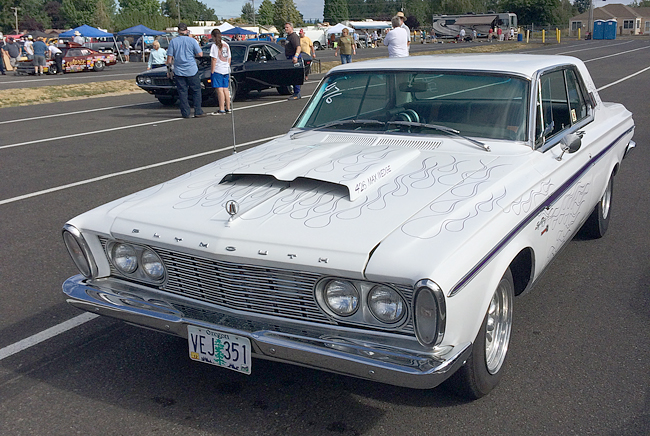 For Sale 1963 Plymouth clone. 440 block with Max Wedge carbs, intake,exhaust, and heads. Ran 12.60 spinning the old cheater slicks at Woodburn. $40,000. Call Earl Ming 503-250-3314. Email earlming49@gmail.com. Car is near Woodburn Oregon
---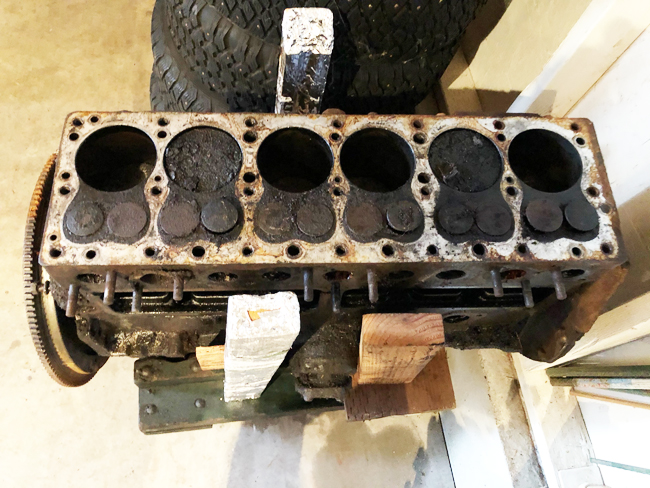 Rebuildable 1948 Dodge PW 230 ci engine. Complete. $200. Bill Zesbaugh 253-304-6285
---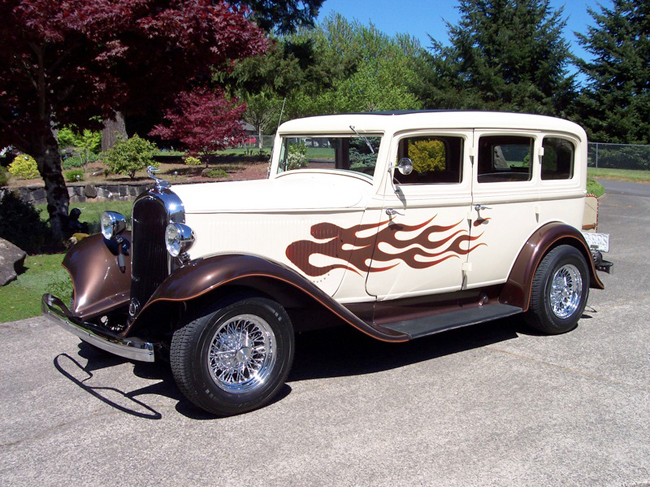 FOR SALE: 1932 Plymouth Sedan. Model PB Street Rod. All original steel body, 350 with AT, tilt steering wheel with rack & pinion front end. Xlnt paint, restored interior, includes a full car cover. Nice driver Asking $29,900 or best offer. Vancouver WA area. Richard 360:798-0993 (cell)
---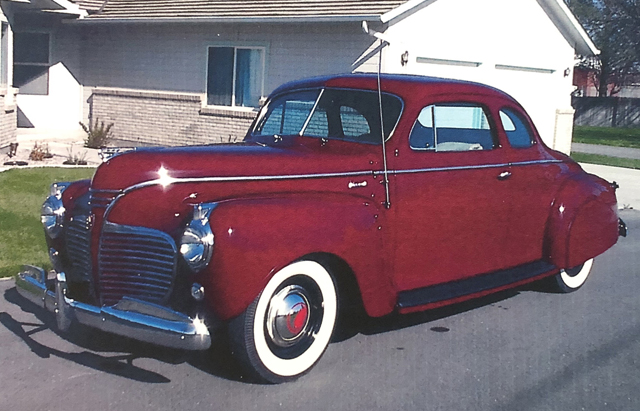 1941 Plymouth P11D, ground-up body off restoration. $24,000 or reasonable offer. Car is in Caldwell, ID. Richard Bicknell, 208-459-2772 or this email link.
Click on any thumbnail above to see larger version.
---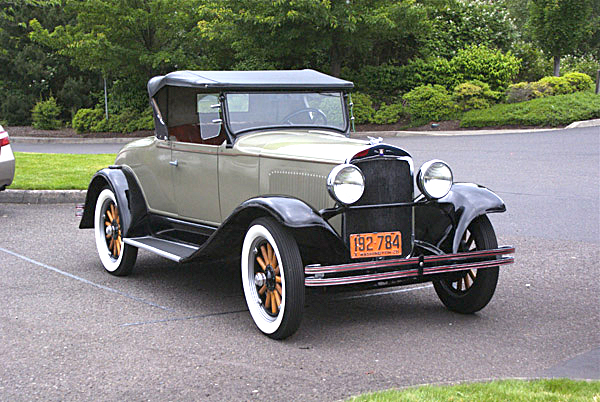 1928 Plymouth Q Roadster for sale to a home where it can be used and enjoyed.
It is an older restoration, it has been a west coast car since new, and CPPC members Allen and Sharon are the fourth owners. "It will go 50 mph," Allen says. "It likes to go 35." Allen has a spare engine and clutch, all of the side curtains, and some extra flexible disks that functioned in place of u-joints in these cars. He also had some fittings remanufactured for the hydralic brakes. All of these items come with the car.
The roadster is currently on display at the Columbia Gorge Interpretive Center in Stevenson, WA, which is open 7 days a week from 9:00AM-5:00PM. Tiffanys live only about 15 minutes from the museum, and Allen will gladly come down to talk to interested parties. Call Allen's cell phone at 360-798-4041 or email sleatiffany@centurylink.com for more information. Allen's price for the 28Q is $15,000.
---
New Valley Trailer Class II Hitch P/N 1367V fits most all 1967 to 1974 Plymouth/Dodge "A" bodies. Kit includes chrome tongue, brackets, hardware and instruction sheet. Price is $35 or Best offer. Call Phil Peters @ 503-244-1608
---
1941 Plymouth parts, chrome, body parts ect  ect   also 1941 Plymouth 2 dr. sedan project car. No Title   Steve  503 591 5847.
---
For sale – (3) 1938 Plymouth steel wheels for sale 17.5" x 5" – great shape - $200 (pictures below) Clark Taylor – (360) 921-4636
Click on these to see larger images.
---
Wanted – 1937 or 38 Passenger side Headlight bucket. (will take drivers also if you have).  Clark Taylor – (360) 921-4636
---
Wanted – 1964-66 Slant 6 motor and automatic transmission for grandkids car (rebuildable needed) Clark Taylor – (360) 921-4636
---
For sale, 1951 Plymouth Suburban, flathead 6, 3 speed,  very solid car, clean title good project to restore or hot rod, $1500 or offer. Contact Bob Derbyshire 503-324-0923 (01/20)
| | |
| --- | --- |
| | |
---
For sale, 1939 Ply 2dr Sedan. Has been stripped to bare metal. Only rust repair needed was a small patch at rear of the trunk floor. Fresh paint. All beautiful original sheet metal, floor pans, etc. All body work done. Unbelievable how solid this car is for its age. Was primed, blocked and painted. Firewall, back sides of fenders, fender wells all have been done (painted). Front and rear bumpers have fresh chrome! Stainless in nice shape. Has glass tail light lens. Missing a few small pieces of trim. Needs wiring finished, dash and gauges refurbished, interior redone, headlights finished, and running boards done,(have two sets). Has original drive train installed. Inline 6 with manual trans, floor shift. Comes with an extra engine and trans out of a 41 Dodge that was a running driving car when removed. Have extra radiator and more parts too. I have not tried to start or drive it. Please call to come and check it out. If no answer, leave message, phone # I will call back $10,000.00 (OBO) . Jake, 503-678-1712. Click on the pictures to see larger image.
---
Available on CD, a 59 page repair manual for 33-36 Plymouth. $10. Bob. 360 549 6542
---
License Plates
CPPC has a variety of antique license plates, mostly from Oregon. They were donated to the club. Condition and prices vary. List will be updated as items are sold.
Phone Jerry Dixon at 360.607.7628 for specifics.

Oregon
      Year      Qua.        
 1.   1927   one single
 2.   1929   one single
 3.   1931   one pair
 4.   1932   one single
 5.   1933   three singles
 9.   1933   two pairs
10.  1936   two singles
12.  1936   one pair
13.  1939   one single
14.  1941   four singles
18.  1941   one pair
19.  1942   one single
20.  1942   one pair
21.  1946   two singles
23.  1947   two singles
27.  1947   three pairs
28.  1948   two singles
31.  1948   three pairs
33.  1949   three pairs
36.  1950   one single
37.  1954   one single
38.  1958   one sinlge

California       
39.  1963   one single
Colorado
40.  1976   one single
Idaho
41.  1955   one pair
Minnesota
42.  19?    one pair
Missouri
43.  1939   one single
New Mexico
44.  1937   one single
Pennsylvania
45.  19?     one single
46.  1936   one single
Texas
47.  1941   one single
Wisconsin
48.  1931   one single
---
___________________________________________________________________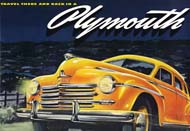 BROCHURE ART & PHOTOS – I have Plymouth brochures from 1932 to 1955, and am constantly adding to my collection. I scan the images, clean them up in Photoshop, and print them poster-size. Contact me if you have a custom project in mind. Talk is free -- there's no charge until I produce something that you like. Robin Will, robin@robinwill.com.

___________________________________________________________________